Director of Punto Urban Art Museum
Salem, MA
North Shore CDC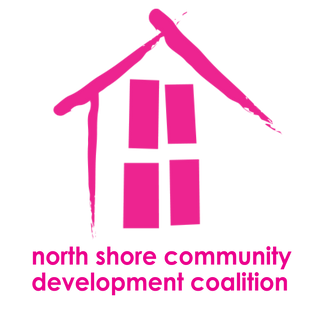 Why Work at North Shore CDC?
North Shore Community Development Coalition (NSCDC) is a regional, nonprofit community development organization committed to investing in neighborhoods to create thriving communities. We envision a North Shore where every neighborhood is one of choice and opportunity. Our neighborhood revitalization model focuses on projects that have lasting benefits for entire neighborhoods with need-based programs that build future city leaders and self-sufficient residents. Our diverse staff are passionate and committed to helping our communities thrive and grow. We offer extremely competitive benefits including funding for professional development, as well as a full suite of healthcare benefits, generous paid time-off, flexible work hours hybrid in-office and at-home work flexibility and more.
NSCDC & the Arts
NSCDC began using the arts as an engagement strategy in 2012-2013 in the development of the award-winning Point Neighborhood Vision & Action Plan, a neighborhood revitalization strategy developed by a partnership of NSCDC, the Point Neighborhood Association & the City of Salem which sought to improve the quality of life in Salem's Point neighborhood. After impressive levels of engagement, NSCDC continued to experiment with the use of arts & in 2017 launched Punto Urban Art Museum (PUAM), a public art collection which has grown into a nationally recognized initiative.
PUAM was founded to break down the socio-economic barriers between the Point & the rest of Salem & the North Shore region by addressing long-held stigma rooted in racism, classism and xenophobia. A collection of 75+ murals within a 3-block radius, PUAM is designed to capture the vibrant neighborhood spirit in the Point and serve as a point of pride for neighborhood residents and business owners. It also serves as an invitation to people not from the Point to visit. Public art is the hook, but visitors to PUAM learn about the history of the Point and, NSCDC hopes, gain a deeper understanding of the experience of people living in the Point in the past, present and future. It continues to be both a remarkable collection of public art, as well as a platform for people to engage in a meaningful, authentic way with issues of race, equity and inclusion.
The Future of PUAM
Since founding PUAM in 2017, NSCDC continues to advance an annual line-up of visual, performing & experiential art programming. NSCDC completed an Arts Strategy in early 2020 which defined the program's priorities & laid the groundwork for programmatic growth and sustainability. The core programmatic focuses for the next era of PUAM are:
Continue to produce culturally-relevant, resident-centric public art designed to beautify public spaces within the Point neighborhood in Salem and elsewhere as the opportunity arises; and
Advance PUAM's efforts to address stigma by offering educational tours and workshops to schools, civic groups, corporate groups, etc.. Educational tour curriculum is designed to authentically convey the cultural, economic & social identity of the Point & offer an opportunity to build empathy & understanding, reducing stigma over time.
As an affordable housing developer, NSCDC has incorporated an arts strategy into each of its current affordable housing projects. As a result, NSCDC will be opening a series of exciting new program spaces over the next five years which will provide platforms for the Punto Urban Art Museum team to foster programs and partnerships aligned with these two core programmatic focuses. Filling the newly-minted Director position is a critical next step not only in maintaining existing programming, but in preparing program for these new spaces.
About the Role
The Director of Punto Urban Art Museum ("Director") is an exciting new position at NSCDC who will have primary ownership over the organization's work in the arts, in collaboration with a diverse team of allies & partners in other roles within the organization.
ESSENTIAL DUTIES AND RESPONSIBILITIES:
The Director will have a keen attention to detail, the ability to delegate effectively, substantive experience in the arts and/or community development, and will have solid organizational, problem-solving, and clear decision-making skills.
Deep commitment to NSCDC's mission & an understanding & commitment to the community development movement.
Demonstrated experience in arts administration and/or other relevant program management within the non-profit or arts sectors.
Demonstrated experience creating and managing budgets.
Demonstrated experience engaging with economically & racially diverse communities.
Become the staff lead for NSCDC's work in the arts.
Manage and collaborate with other arts staff, interns and volunteers in the execution of the team's annual work plan.
Serve as the primary internal point of contact for NSCDC's other programs who are interested in collaborating.
Cultivate & manage arts-based and education-based partnerships with local and regional partners on behalf of NSCDC.
Lead the PUAM team and assume responsibility for its core focuses: public art & education.
Building out the social justice community education & tour program.
Desired Qualifications:
5+ years of experience in arts administration, non-profit program management or other relevant experience within the field.
Experience managing staff.
Direct experience working in communities with immigrant populations.
Language competency in English and Spanish
Exposure to fundraising, either through grant management, donor engagement or other relevant activities.
Salary range is $75,000-$100,000 based on experience and qualifications.
To Apply:
Submit a resume and cover letter
North Shore CDC is a member of Opportunity Communities (OppCo), a non-profit membership organization. OppCo provides human resources for NSCDC. OppCo and its member CDC's, North Shore CDC, Nuestra Comunidad CDC and The Neighborhood Developers are equal opportunity organizations. We recruit, employ, train, compensate, and promote without regard to race, religion, creed, color, national origin, age, gender, gender identity, sexual orientation, marital status, disability, veteran status or any other basis protected by applicable federal, state, or local law.
JOB CODE: 1000054